2020 CLD Council Award of

International Art and Design
2020 CLD International Art and Design Award is now open to professionals, college students and enthusiasts in the field of art and design around the world to solicit works.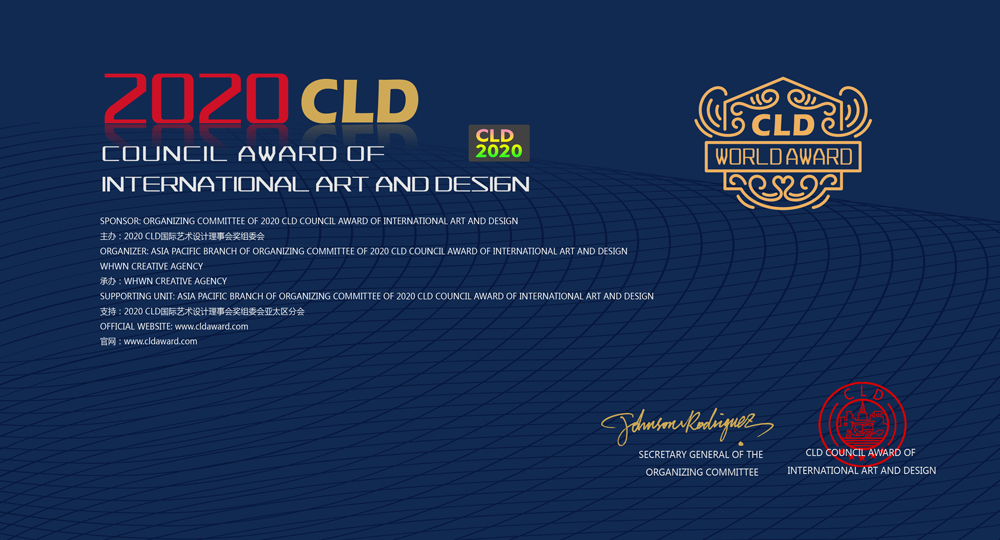 2020 CLD Council Award of International Art and Design aims at building up a significant international conversation in the field of art and design, so as to improve the communication and cooperation with all countries in art, to expand international vision of visual arts and to dig out outstanding art talents in all countries. Therefore, there comes 2020 CLD international art and design competition.
Organizers
Sponsor:ORGANIZING COMMITTEE OF 2020 CLD COUNCIL AWARD OF INTERNATIONAL ART AND DESIGN
Supporting UniT: ASIA PACIFIC BRANCH OF ORGANIZING COMMITTEE OF 2020 CLD COUNCIL AWARD OF INTERNATIONAL ART AND DESIGN、
LAO HOME DESIGN CONSTRUCTION AND REAL ESTATE CO.,LTD
ASIA PACIFIC BRAND PACKAGING DESIGN NETWORK
Organizer: Whwn creative agency
Official Website: www.cldaward.com
Media Support
China News.com, Netease.com, Sina.com, Sohu.com, Tencent.com, Fenghuang.com, China.com, Qilu Evening News, Toutiao, Orient Today, China Enterprise.com, China Business News.com, Zhongxun.com, Dongfang Toutiao, Baidu Baijia.com, CNCB News.com, Citic.com, Huabeinet, NMWHTV.com, FBChinese.com, Link Paper net, News1.com, International News network
Field of Entry
A /Communication design
Signs, posters, books, mascots, packaging, posters, font design, illustration and so on.
B /Painting and sculpture
Oil painting, sculpture, ceramics, printmaking, watercolor, sketch and hand painting and so on.
C /Environment spaceLandscape, garden, architecture, interior, exhibition and so on.
D /Product design
Industrial design, jewelry design, product appearance, conceptual modeling, structure and so on.
E/ New media
Digital animation, short video, short film and so on.
Awards Setting
●The Council Award is set with gold award, silver award, bronze award and excellence award. There will be excellent tutor awards and excellent organization awards in the campus student group, which would be awarded with paper certification by the organizing committee. The preferential works would be displayed in the official homepage. Non-winners or non-finalists would also gain electronic certificate of the same type of participation award through email according to the competition categories.
●Winners will have a chance to get a Chinese English interview page in the official website of CLD international art council and they will be recommended by the annual excellent designer of the official website;
●Winners will join the CLD international art council since the selected works is one of the conditions to join the Council;
●The excellent works with award will have a chance to be displayed in Design Show in the official website of CLD International Art Council.
Submission Guidance
Deadline of submission: June 1st 2020
Award Announcement Date: Middle June 2020
Certificate Mailing Date: Late June 2020
1、Individuals and groups may participate in different categories as they wish, and the number of submitted works shall not be more than 5;
2、Format of works: JPG, A4, 300DPI, RGB. Irregular size should be more than 210*297mm and the short video should be no more than 100M;
3、The works submitted should have no less than 1-5 digital images and each picture should not be more than 2MB;
4、Download entry form and fill in relevant information and then it should be submitted in RAR or ZIP package. Asian participants should send the works tocldaward@163.com and the participants in other areas should send the works to cldaward@yahoo.com.
●Important hint: The certificates will be mailed in the late June 2020. Teachers and students in all universities and colleges should fill in the address of addressee according to the specification date of holiday. The name list of winners will be announced in the website without any other notification!
Competition Fee
●The participants of professional group in the mainland is 120 yuan per one and the student participants is 60 yuan per one. The number of groups should be no mor than 3 and the series works are calculated as one work. The member of CLD Council could pay half of the review fee in the competition ( the monetary unit mentioned above is RMB yuan).
●Participants in other areas (including HK, Macao and Taiwan): 300 yuan per one work of one person in professional group and the students is 200 yuan per one of one person.
●The participation fee will be used in the event activities, media publicity, expert review, award certificate production and other relevant links of the event.
Payment Method
Please choose one of the following ways to pay the entry fee:
1、Alipay account:cldaward@163.com
2、PayPal account:cldaward@163.com
Please indicate your name when paying. Send the payment voucher and the work to the official designated email!
Declaration of Competition
The organizing committee reserves the right of final interpretation for any doubt arising from the rules of this design award. Any matters not mentioned in this design award shall be further formulated and interpreted by the organizing committee. The sponsor has the right to publicize, publish, distribute, display and exhibit the selected works.
2020 CLD国际艺术设计理事会奖
2020 CLD国际艺术设计奖,现面向全球艺术设计领域的专业人士、院校学生及爱好者征集作品。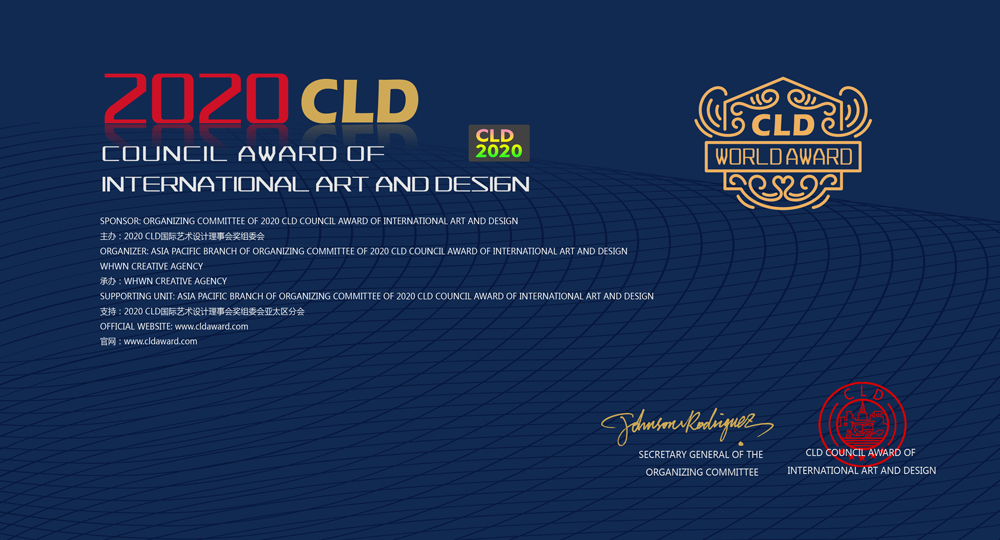 2020 CLD国际艺术设计理事会奖,旨在建立艺术设计领域一个有意义的国际间对话,增进各国艺术交流与合作,拓展视觉艺术的国际视角,挖掘各国优秀艺术人才,特举办此次2020 CLD国际艺术设计大赛。

Organizers / 举办单位
主办:2020 CLD国际艺术设计理事会奖组委会
支持: CLD国际艺术设计理事会奖组委会亚太区分会
LAO HOME DESIGN CONSTRUCTION AND REAL ESTATE CO.,LTD
ASIA PACIFIC BRAND PACKAGING DESIGN NETWORK
承办:WHWN CREATIVE AGENCY
官方网站:www.cldaward.com
Media Support / 媒体支持
中国新闻网、网易网、新浪网、搜狐网、腾讯网、凤凰网、中国网、中华网、齐鲁晚报、今日头条、东方今报、中国企业网、中国商务新闻网、中讯网、东方头条、百度百家、中部网、中信网、华北新闻、商界新闻、商业中文网、互联日报、第一新闻网、国际新闻网
Field of Entry / 参赛领域
A/传达设计
标志、海报、书籍、吉祥物、包装、招贴、字体设计、插画等
B/绘画和雕塑
油画、雕塑、陶艺、版画、水彩、素描、手绘艺术等
C/环境空间类
景观、园林、建筑、室内、展示等
D/产品设计
工业设计、珠宝首饰设计、产品外观、概念造型、结构等
E/新媒体
数位动画、短视频、短片等
Awards Setting / 奖项设置
理事会奖分别设置CLD理事会年度至尊奖、年度新锐设计师奖、金奖、银奖、铜奖、优秀奖,入围奖,其中院校学生组会产生优秀指导教师奖及优秀组织奖者由组委会颁发纸质钢印获奖证书,获奖作品择优在官方主页展出。无获奖、无入围参赛者将根据参赛类别通过电子邮件颁发同等规格参与奖样式电子档证书,CLD理事会年度至尊奖、年度新锐设计师奖获得者颁发钢印《获奖证书》与奖杯。
● 奖项获得者将有机会获得CLD国际艺术理事会官网中英文专访版面,并获得官网年度优秀设计师推荐;
● 奖项获得者将具备加入CLD国际艺术理事会,成为CLD国际艺术理事会成员资格,并颁发钢印《会员证》,入围作品作为入会的条件之一;
● 获奖优秀作品将有机会在CLD国际艺术理事会官网Design Show展示;
● 所有获得入围奖以上等级的获奖者,可获得"CLD国际艺术设计理事会奖"标识永久使用权。
Submission Guidance / 提交指南
● 提交截止日期:2020年6月1日
● 获奖公布日期:2020年6月中旬
● 证书邮寄日期:2020年6月下旬
1、个人及团体可按意愿参与不同类别,提交作品数量不得超过5 件;
2、作品格式:JPG,A4,300DPI,RGB,不规则尺寸应大于210*297mm,视频短片不得超过100M;
3、提交的每份作品应包含不少于1至5 张数字图像,每张图片不得超过2MB;
4、下载参赛表格填写相关信息,请用RAR或ZIP软件压缩包提交,亚洲地区参赛者发送至cldaward@163.com,其它地区参赛者发送至cldaward@foxmail.com ;
● 邮件名称格式为:类别+参赛者姓名+组别,例如:
● A类+张三+专业组

● A类+张三+学生组
● 重要提醒:获奖证书于2020年6月下旬邮寄发出,各地区院校师生请根据假期具体时间填写收件人地址,获奖名单将在官网公布,不另作通知!
Competition Fee/参赛费用
● 大陆地区参赛者专业组120元/件,学生组60元/件,团队报名人数不超过3人,系列作品按一件作品计算,CLD理事会会员参加本届赛事评审费减半。(以上所述货币单位均为人民币元)
● 其它地区参赛者(含港澳台):专业组300元/件/人 ,学生组200元/件/人
● 参赛费用将用于赛事活动、媒体宣传、专家评审、获奖证书制作等赛事相关环节。
Payment Method / 支付方式
请选择以下任意一种方式完成参赛费用的支付
● 支付宝账号:cldaward@163.com(认准CLD理事会奖标识)
● PayPal账号:cldaward@163.com
支付时请注明姓名,将支付凭证同作品发至官方指定邮箱!
Declaration of Competition / 大赛申明
对本次设计奖规则产生的任何疑议,组委会保留最终解释权,与本次设计奖有关的任何未尽事宜,均由组委会进一步制定规则并进行解释。主办单位拥有入选作品的宣传、出版、发行、展示、展览的权利。